Maya's Journey Through Neuroblastoma and Clinical Trials that Saved Her Life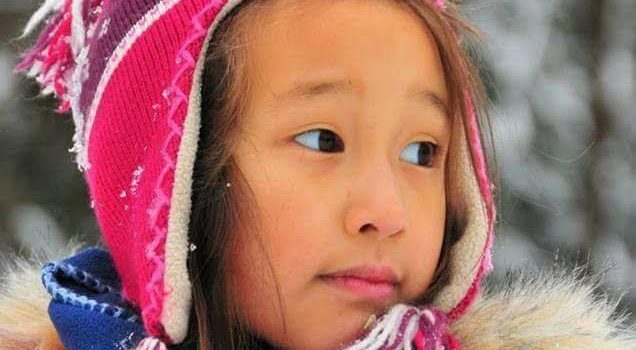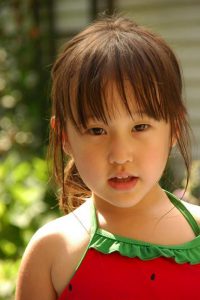 In 2010 Kim's family heard the words that changed their life forever: "Your daughter has cancer". Back then, Maya was a four-year-old kid with a life filled with happiness, ballet, arts, sports. Maya was full of life.
The nightmare started with pain
While running outside, Maya's knee hurt but nothing was found by her paediatrician. A couple of months later, another sign appeared – her lower back was hurting. Soon the pain in the back became so noticeable that she had trouble sleeping. After numerous visits, her paediatrician suggested it was time for Maya to be seen by the doctors at SickKids children's hospital in Canada for a more extensive examination.
The diagnosis
X rays and further tests were ordered and an ultrasound revealed a tumour below the adrenal gland and above the right kidney.
In March 2010, Maya was diagnosed with stage IV Neuroblastoma. The cancer had spread to multiple areas – around her spine, the top of her pelvis and sacrum, the top of the femur on both legs, the sternum area, small areas around her neck, and the right side of her frontal skull.
Therapy after therapy
Maya started the treatment laid out by the Children's Oncology Group (COG), the latest standard of care. She had 5 rounds of chemotherapy to shrink the tumour followed by a surgery to remove her right kidney, a bone marrow transplant and then another round of chemotherapy. Scans before the Bone Marrow showed that 50% of Maya's cancer had gone away with the first 5 rounds of chemo until they found her liver was too weak to proceed with radiation as this could be fatal. Because of veno-occlusive disease that was caused as a side-effect of the chemo, they could not risk damaging the liver any further.
This meant that Maya was out of the COG protocol and she could not receive Immunotherapy, as radiation had to be given within 100 days of the transplant for Maya to qualify for Immunotherapy. This was another devastating event for Maya's family.
No hospital in North America would give her immunotherapy once she disqualified. All throughout 2011 Maya received chemotherapy with the aim to reduce the cancer for her to proceed with the innovative therapy.
Looking for other options
"There was no appropriate clinical trial available for Maya in Canada. Additionally, we didn't know where to look. We knew there were a couple of trials at our hospital but that was about it", says her father Kirby Kim.
They were declined by the Canadian Ministry of Health for Personalized Medicine and their doctor referred them to NIH where a study was being conducted. The cost of the therapy, food, and travel was covered by the US government.
Unfortunately, they were rejected by the study because they could not locate a fresh tumour sample.
Rejection after rejection followed until January 2012 when Maya started MIBG-131 therapy in St Justine, Montreal that they found out about through another neuroblastoma family. Then, she was able to qualify for a precision medicine trial at Grand Rapids, Michigan with a new drug called DFMO.
It couldn't become worse
Some six or seven months later when Maya was already into the DFMO study, Maya was diagnosed with secondary cancer – Chemo induced Myelodysplastic Syndrome (MDS).
At the time of diagnosis Maya had over 20% blast which was very close to being AML (acute myeloid leukaemia). Back at their primary hospital, they were transferred from Solid tumour group to Hematology-oncology group. Their hopes faded very quickly but they rolled up their sleeves again – more scientific literature, new concepts to read and new worries about their child. There were so few kids with an adult disease as MDS and there was so little literature about pediatric settings.
"We were running out of options. All the cards that we had in our pockets had been exhausted", her father recalls.
In addition, each therapy that Maya was having, was exhausting her body.
The light in the tunnel
Maya started Vidaza to treat the MDS while waiting to find a donor for an Allogenic Bone Marrow transplant (the only cure for MDS). A few months later, Bone Marrow biopsy in 70 cells and later in 200 cells showed that Maya was technically in remission or at least the cancer was not detectable at the time. Maya had a great quality of life. The therapy was very well tolerated, no nausea, no hair loss and it was taken as an outpatient.
Because no fully matched donor was found, the transplantation was postponed as this would be too toxic and gave Maya only 50% chance of coming out of it.
"We needed something better. Vidaza turned out to be sort of a miracle for us, it gave us time."
They applied and got accepted in a clinical trial at St. Jude Children's Research Hospital in the US with the help of an amazing and persistent oncologist. The therapy used was a non-myeloablative transplant that also used natural killer cells to kill the MDS and Neuroblastoma as well. They did not need to use a full match, they could do a haplotype mismatch transplant so Maya's dad became the donor.
"I am happy to be so actively participating in Maya's therapy. In blood, she is me. This will never be truer after our therapy here at St. Jude. We will share the same blood. A father and his child will never be more intimately connected, in some ways. I am grateful that the technology exists to allow a life to be saved in such a way." (a quote from Kirby's blog)
The good news was that the amount of chemo that was being used was less which means it was not that toxic. Even so, Maya almost didn't make it with one setback after another during the recovery. The girl could hardly make a few steps within months.
"We thought we will lose Maya. We even had an early birthday party"
The miracle happened
In January 2014 Maya started conditioning for a Second Bone Marrow transplant at St. Jude hospital under the care of Dr Brandon Triplett within a clinical trial. After 16 rounds of vidaza before her second transplant, there were no detectable translocations or blasts.
Even though the cancers had taken so much from Maya and because Kim's family found their way through clinical trials, they can still hold her hands and walk her to school. Since August 2014 until now, Maya hasn't received any Neuroblastoma treatment and there is no progression of the disease. Without clinical trials Maya would have succumbed to cancer but as her father says "Cancer picked up the wrong kid to mess with".
About clinical trials
We cannot avoid saying that therapies caused Maya a lot – she has to live with a few chronic conditions now as a side effect of all medications and procedures. However, Maya is alive thanks to innovative therapies and she is one of the 45% of kids surviving after a Neuroblastoma diagnosis.
"Getting the right clinical trial is the hard work. Once you get there, you can let clinical trials take over. If the standard of care has failed, then looking for a clinical trial is the natural course of action one should take"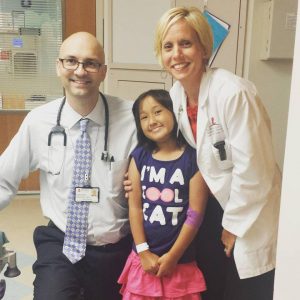 When the Kim's got to the US, the doctors there gave them hope. In the words of Dr G. Sholler, "Oh you still have lots of options, so, don't lose hope!" is what Kirby recalls.
We at FindMeCure believe we can make this journey shorter and easier for people being in a similar situation and we are working hard to make these therapies come to those in need much faster.
Article by Daniela Shikova