Advances of Home Dialysis Machines and the Impact on CKD patients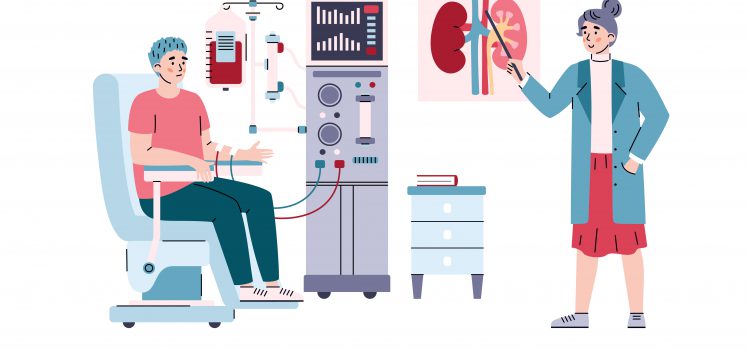 Chronic kidney disease (CKD) is a condition in which the kidneys are unable to rid the blood of toxins and fluids properly. When the kidneys aren't functioning as well as they should, patients rely on dialysis to ensure they stay healthy and feeling their best.
The different stages of Chronic Kidney Disease are classified based on the patient's kidney's ability to filter out waste, and each stage requires different levels of treatment. Some patients may need to perform home dialysis only three times per week, while others may need to do it every day. The patient's nephrologist will help determine how often home dialysis is needed, and for how long.
There are two different types of dialysis — peritoneal dialysis and hemodialysis. Peritoneal dialysis uses the natural lining of the patient's peritoneum or abdomen to filter their blood the way their kidneys normally would, and hemodialysis uses a filtering membrane called a dialyzer inside a dialysis machine. While there are many CKD patients who still receive dialysis treatments in a clinical setting, there are a number of advancements taking place in home dialysis technology, allowing patients to receive the same quality treatment in their own home.
How home dialysis machines work
Home dialysis machines are designed to help clean and filter toxins out of the blood when the kidneys don't work properly through a special filter called a dialyzer. The blood travels through a series of plastic tubing to the dialyzer and is cleaned before it is returned to the body through a patient's dialysis access. As the dialysis machine pumps blood through the filtration system, it can control the treatment time, temperature, fluid removal and pressure.
For the most part, home dialysis machines work the same way, with a few minor differences to make it easy to use for the patient and any care partners who assist with their home dialysis treatment.
New advancements in home dialysis machines
Throughout the years, home dialysis machines have evolved quite a bit. Manufacturers are working to make these machines easy-to-use and set up, so patients and caretakers can perform hemodialysis with as little disruption to the patient's daily life as possible. Machines are now easier to clean and disinfect as well, making home hemodialysis an option for more CKD patients than ever before. Some newer machines even require patients to store fewer supplies in their home.
How new home dialysis technology improves treatment and life of CKD patients
The advancement of home dialysis machines has a major impact on CKD patients. People with CKD can now receive treatment from the comfort and safety of their own home, without needing to go into a clinic for multiple hours at a time, multiple days a week.
So long as their doctor approves, some dialysis patients can even choose how to time their treatments, allowing for more flexibility for social activities, work, hobbies or school.
Some kidney doctors may prescribe longer or more frequent sessions for home hemodialysis patients, which can make them feel better — they may have more energy and fewer negative side effects than shorter or more infrequent sessions. If CKD patients are able to perform more frequent dialysis treatments at home, they often have fewer dietary restrictions as well.
How new home dialysis technology improves health data for CKD clinicians
With the advances in medical device technology and telemedicine, CKD patients' nephrologists and clinical team can stay in communication with them easily, using online methods like virtual visits and check-ins. Many clinics also have dialysis nurses who are trained to help home dialysis patients use and clean their machines properly.
With more home dialysis patients, kidney care clinics are able to save on costs for in-center equipment, operations and support staff. The advanced technology in home dialysis machines also provides more accurate and useful data for clinicians to use in assessing and treating CKD with more accuracy. This enhances safety, proactivity and overall success for CKD patients' health.
Guest post by Susan Baker