The Secret of The Placebo Effect in Research (Infographic)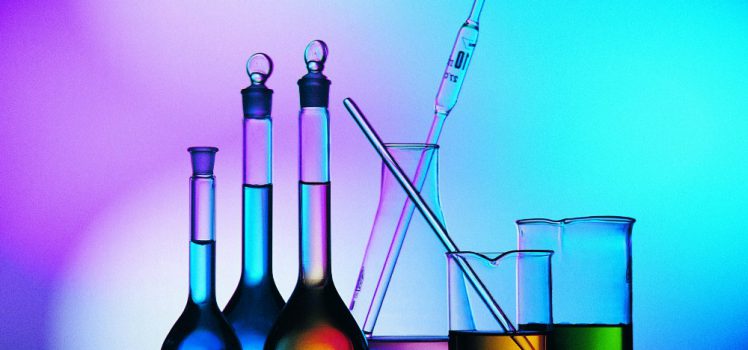 The placebo effect has been widely discussed basically ever since it had been discovered by the American doctor Henry Beecher, who was taking care of wounded soldiers during the World War II. One day Henry runs out of the vital pain-killing morphine. At that point he doesn't have much of a choice but to continue telling patients that he is giving them morphine, although he was actually treating them with a saline solution.
Unbelievingly, about 40% of the wounded soldiers felt the pain relieved.
And this is how the first placebo was discovered.
What exactly is the placebo effect?
Well, I'm sorry to disappoint, but no one knows how exactly the placebo works. Yet, here is what's known.
Placebo is a substance that may look as a real drug, but it doesn't contain any active ingredients. It's often called the "sugar pill" because sometimes it's made of just sugar and glucose. Placebos can be also devices, procedures or injections if the patients believe they are effective and will make them feel better.
Placebos may be pharmacologically inert. That means that they contain no active ingredients (the sugar pill). However, medications that do have active ingredients but aren't proven to work on the patient's particular condition can also be placebos. A surgery can be claimed a placebo too. Some people believe that homeopathy and alternative medicine are placebos as well.
As it was already mentioned, the phenomenon is still not clear to the neuroscientists, but yet few things have been revealed. For example, the placebo helps the brain to release natural chemicals like endorphins — the hormone of happiness. This is why placebos are extremely effective on treating post-operative pain, depression, and anxiety.
One of the theories behind the placebo effect is the subject-expectancy effect.
This theory postulates that people unconsciously change their reaction to bring a positive result when taking a pill that is supposed to be helpful.
Another theory says that people who experience the placebo effect have become classically conditioned to expect relief.
Both theories are rather similar as far as in both of them the patient has a built-in expectation of the result.
Another interesting attempt to understand the placebo effect is a study from 2002, conducted at UCLA Neuropsychiatric Institute. The researchers there designed two groups of patients to test experimental antidepressants. The first group has been given the actually tested drug and the second one has been receiving a placebo for their depression. After a couple of weeks, each group's brain activity was measured. The good news is that both groups had shown positive effects.
The researchers registered, though, that the placebo group had a significant increase of the brain activity compared to those who were taking the drug. Something more, a different part of the brain was active — the prefrontal cortex which is related to planning, cognitive behavior, personality expression and decision making.
On the other hand, placebos are not simply "in your head". They can cause physical reactions too — to relieve pain, but also bring it as well as to relax your muscles.
The next infographic, that we have prepared, will add some more knowledge about the placebo effect in facts and figures.
Well, if you are still interested to learn about the use of placebo in Clinical Trials, don't stop till here. 🙂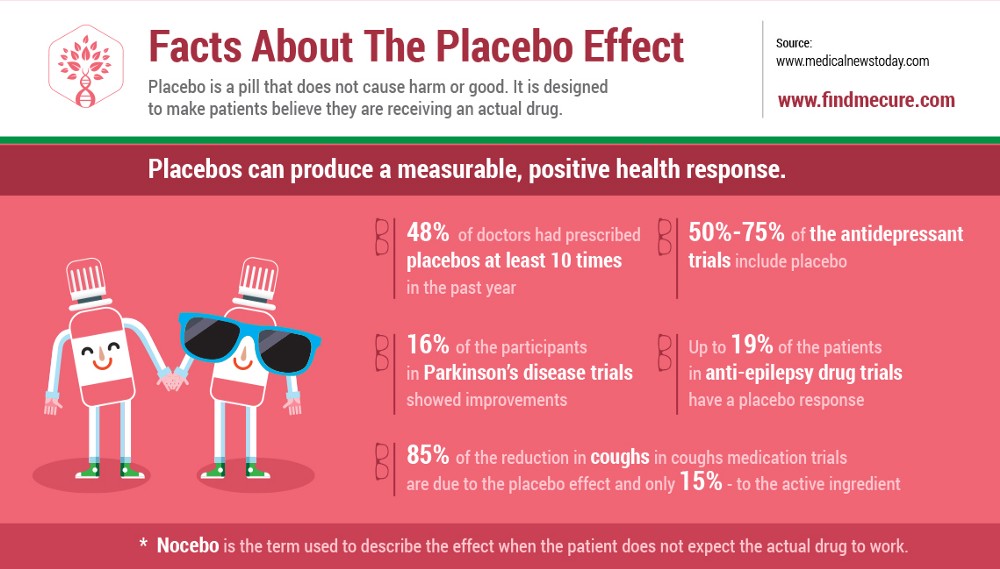 Placebos in research
Placebos are often used in clinical research to determine how well a tested drug fulfills its intended purpose. To explain how exactly it is used, we can say the following: A placebo-controlled trial usually involves 2 groups of participants. The first one receives the actual drug or treatment tested and the second — a placebo. This type of trials are blind (the participants don't know about the possibility of taking placebo) and most often — double-blind, which means that even the researchers don't know whether a placebo is given. All of this is to avoid potential bias.
There are many people who fear clinical trials because they believe receiving a placebo might be dangerous, especially when it comes to serious conditions like cancer, for example. Although these might be reasonable concerns from patient's point of view, clinical research has developed a lot in the last several decades.
Patient's safety is one of the areas where has been worked a lot on. The decision about whether to use a placebo in a clinical trial is based on how serious the illness is, whether an existing treatment is available, and other considerations that ensure high standard of ethics.
For instance, if an experiment drug is been tested for a very serious disease while there is already an existing drug, the available treatment is usually used instead of placebo. As it comes for new cancer treatments, drugs are tested against placebo when the best supportive care is the standard treatment option.
Obecalp
Not only the Clinical Research is a sensitive area when it comes to placebo usage. Let's taka the Obecalp case. If you try to read the word backwards, you will notice that we still speak about the placebo effect. The case of a mother, named Jen Buettner, become famous in 2008, when she trademarked the name Obecalp (Placebo read backward) and started selling placebo pills for children. The tablets were made mainly of dextrose (simple sugar chemically identical to glucose that is made from corn).
Since then there have been literally thousands of mixed responses towards Obecalp, some of them calling that although the pills can't harm physically the children, they teach them always look for a reliever in a pill.
Instead of a conclusion
The placebo effect is a vast topic for discussion that few blog posts can cover entirely. But if you have anything to add, please do so in the comments!
We will be happy to hear about any topic you would like to know more and to write an article. Drop us a line!
And last but not least, if you think this reading was useful to you, don't hesitate to press the little red heart at the top of the page.
We, at FindMeCure, are getting extremely happy with every response!